The future is here: Public history education and the rise of digital history
09 July 2012 – Steven Burg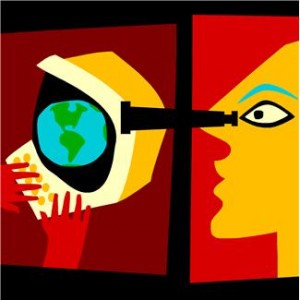 David Walsh's article on the History News Network, "Public History's Great Showing at the 2012 NCPH/OAH Annual Meeting," observed not only the vitality of public historians within the historical field, but also the unique relationship between public history and digital history. Walsh noted, "Public historians have been leading the way in embracing the possibilities of new technology, and this was very much on display in Milwaukee."  He went on to observe that "Public historians have obviously embraced social media much more readily than academic historians" and that "Public historians already exist in the now co-existing public and digital spheres."
While the growing interconnection between public history and digital history is a process that has been underway for decades, particularly in places like George Mason's Center for History and New Media, and the University of Virginia's Virginia Center for Digital History, many public history graduate programs have only recently begun the process of formally integrating digital history into their curricula.
To get a preliminary snapshot of the place of digital history in graduate public history programs, earlier this year I distributed a short survey via SurveyMonkey to the National Council for Public History's public history educator's listserv, and also to the eighty-six directors of graduate public history programs listed on the NCPH's online Guide to Public History Programs.  Forty-five individuals responded to the survey representing forty different programs.
Almost two-thirds (64.5%) of the responding program directors reported that graduates of their programs would be leaving with competency in digital history and new media. Fifty-nine percent of public history program directors indicated that content on digital history and new media had been integrated into existing courses, and fully 46.2% stated that their programs had added one or more new courses on the study of new media or digital history. The directors also reported that more than one-third of public history programs are preparing their students to create or author digital history or new media resources (35.9%).
Personally, I was glad to see this growth in digital history, but it also raised concerns when I considered the broader impact on the teaching of public history.  This proliferation of courses in digital history reflects a considerable allocation of scarce academic resources. It also complicates further the challenge public history educators face in balancing the coursework their students receive in history content, historical methodologies, and historiography, and the other technical skills that we seek to impart to our students. How are programs balancing the need to teach digital history with the other pedagogical demands of training future public historians? How is digital history transforming the nature of public history education and training?
I also had questions about what precisely constituted "digital history" or "new media" within the programs that I had surveyed. What knowledge or experience represents the appropriate training for a public historian in the field of digital history? Is an openness to technology, a willingness to self-educate, a familiarity with a range of freely accessible Web 2.0 sites, and an awareness of digital environments enough, or should digitally competent public historians have a more specifically defined set of technical skills? Should programs specialize in particular aspects of digital media, or do students need a broad base of understanding and a wide array of experiences (or both)? Would it be possible for public historians to agree upon an ideal digital history curriculum, or are we better served by letting a thousand flowers bloom?
These are not new questions, and others have started to address them. A great starting point is the website for a THATCamp session at the AHA 2012 entitled Teaching Digital History.  Jeffrey McClurken of Mary Washington University has posted a website with the schedule of the session, plus a rich variety of links, including Lisa Spiro's collection 134 digital humanities syllabi.
Another useful resource for those contemplating new digital history courses is a blog by Trevor Owens, a digital archivist at the Library of Congress who has taught digital history at American University.  He describes the process of designing his course, including his thinking about how technical a successful digital history course should be, in the post, "How Technical to Get When Teaching Digital History."
As the teaching of digital history proliferates, I have no doubt that there are going to be large numbers of instructors looking for guidance as they develop their first digital history courses.  Given the special relationship between public history and digital history, I believe there is an opportunity for the National Council for Public History to provide leadership and guidance to those educators.  This could take the form of digital history guidelines created as part of the NCPH's Best Practice for Public History Training documents, or even something more dynamic to reflect the ongoing changes taking place in the field of digital history.
Whatever specific form this may take, such guidelines, best practices, or collected resources could strengthen the quality of digital history education, better prepare the next generation of public historians to engage in digital history work, and continue to strengthen the natural and fruitful connection between public history and digital history.
~ Steven Burg, Shippensburg State University