DIGITAL PUBLICATIONS

NCPH's public history blog. The blog was created in March 2012 to create an online space where people from a variety of areas of the public history field could share ideas and news, and to create a bridge to future digital and other publication efforts. Like the field itself, the blog is designed to blend scholarly, professional, and civic discourse arising from the practice of presenting history in public.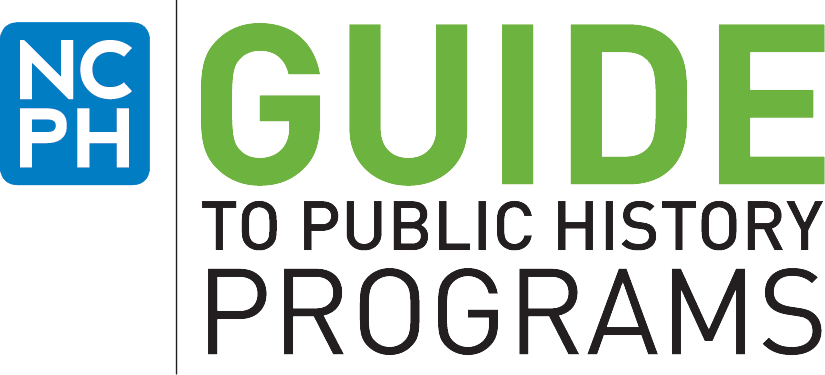 This guide is a free, international resource for prospective students, public history faculty, and anyone interested in the shape of public history education today. It offers basic information, in a standardized format, about the growing number of public history programs for graduate and undergraduate students. It is meant to be a starting point for comparing programs.
---
OTHER NCPH PUBLICATIONS AND REPORTS
A "consumer's guide to public history programs" designed to help history undergraduates prepare for, select, and succeed in a graduate public history program. The Navigator also includes links to other online resources that will help undergrads navigate the waters of grad school.
A must read for any student interested in working as a historian. Sponsored by the American Historical Association and NCPH and authored by faculty and students in the Public History Program at the University of South Carolina, the 2002 edition discusses numerous career possibilities. It includes interviews with prominent historians, ranging from those in academic and publishing areas, to public and consulting.
The NCPH Curriculum and Training Committee is developing "best practices" documents for several key aspects of public history curriculum and program development. Recognizing that each graduate or undergraduate program has its own goals, resources, and needs, we hope these documents will highlight some of the core elements to which every program should aspire.
This joint report offering best practices for evaluating public history scholarship in history departments, was adopted by the NCPH, the Organization of American Historians, and the American Historical Association in spring 2010. The report provides clear advice for college and university administrators, department chairs, and faculty. The report is here. A supporting white paper, also written by the committee, is available.
A digital publication of [email protected] and The Public Historian in commemoration of the fiftieth anniversary of the National Historic Preservation Act, October 2016. A compilation of blog posts reflecting on essays published in The Public Historian and some new essays reflecting on the future of the National Historic Preservation Act. This e-book is available as a PDF, and also as an EPUB: preservingplaces

A special publication of the Public History Commons as part of "The State of the Field: Public History and Environmental Sustainability." A collaborative project of the National Council on Public History and The Public Historian, March 2014
The NCPH Code of Ethics and Professional Conduct was adopted in 2007 to replace a version from 1986, this code sets forth guidelines of professional conduct expected of all members of the NCPH.