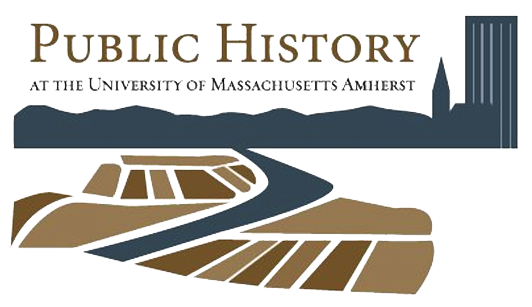 Public History Graduate Program
Last Updated: December 3, 2021
History Department, UMass
161 Presidentu2019s Way
Amherst, MA 01003
Director(s)
Marla R. Miller
[email protected]
413-545-1330
Program Introduction
Established in 1986, the Public History program at UMass Amherst typically welcomes between six and eight students per year (within an MA class of about twelve to fourteen). Students complete an MA in History, and a Graduate Certificate in Public History. A range of concentrations are available; the track in Archives Management is offered in partnership with the Simmons College Graduate School of Library and Information Science (West), located on the Mount Holyoke College campus.
Degrees Offered
M.A. in History with a Certificate or Concentration in Public History
Ph.D. in History with a Certificate or Concentration in Public History
Program Strengths
Archival Practices
Digital Media
Historic Preservation
Local/Community History
Material Culture
Museum Studies
Oral History
Credit Hour Requirements
38
How Many Students are Admitted Annually
BAN/A
MA25
PhD12
Deadline To Apply
January 2
Internship Requirements
Students find internships with assistance from faculty. The 300 required hours (6 cr.) can be split across more than one experience. We have several scholarships, offered on a competitive basis, to support un/under-paid internships.
Places Where Students Have Interned During the Past 3 Years
• Lower East Side Tenement Museum (New York)
• Massachusetts Trustees of Reservations
• Yankee Magazine
• Minneapolis Institute of Art
• Wistariahurst Museum
• William Cullen Bryant Homestead
• Old York (Maine)
• UMass Special Collections and Archives
• Newport Historical Society
• Concord Museum
• National Baseball Hall of Fame (New York)
• Museum Casa Carlos Gardel (Buenos Aries)
• Pilgrim Museum (Holland)
Job Placement Assistance
Placement begins upon arrival and continues through graduation: professional networking is embedded in the program requirements all four semesters. Financial support to attend conferences also helps students connect with potential employers.
Employers Who Have Hired Graduates from this Program within the Past Five Years
• Historic Deerfield
• Mystic Seaport (Connecticut)
• San Diego Air and Space Museum
• C.V. Starr Center (Rhode Island)
• Taubam Museum of Art (Virginia)
• University of Alabama Museums, Office of Archaeological Research
• Trustees of Reservations
• Wave Hill (New York)
• American Antiquarian Society
• UMass Amherst
• Historic Mount Vernon (Virginia)
• Springfield Museums