Project Showcase: College Women
23 July 2015 – editors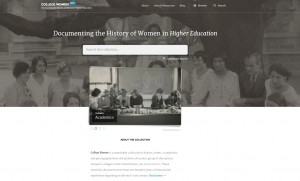 With the support of a one-year Foundations planning grant from the National Endowment for the Humanities, the seven women's colleges once known as the "Seven Sisters" recently launched College Women: Documenting the History of Women in Higher Education. College Women brings together digitized letters, diaries, scrapbooks, and photographs of women who attended Barnard, Bryn Mawr, Mount Holyoke, Smith, Vassar, Wellesley, and Radcliffe (now the Schlesinger Library, Radcliffe Institute for Advanced Study, Harvard University). These materials, documenting women's campus cultures, have long been preserved in the libraries of the seven schools; College Women makes them available online and searchable together for the first time.
Staff members at the libraries of all seven institutions have worked in teams over the last year to plan and test the site, develop standards for its operation, and set common standards for cataloging and indexing their collections. College Women is now available in a beta version, featuring 300 photographs, letters, diaries, and scrapbooks from the seven partner institutions. Collaboratively, the institutions will be expanding the content in the coming years as more historical documents are digitized and catalogued.
Design and construction of College Women was done by Philadelphia-based Interactive Mechanics, LLC. The project also received advice from a team of leading scholars in the fields of women's history and archives, history of education, and the digital humanities.
For more on the project, see Educating Women, the Greenfield Center blog, and visit collegewomen.org.
(Project team member Monica Mercado of Bryn Mawr College and developer Michael Tedeschi of Interactive Mechanics will demonstrate the site on July 22 at the University of Pennsylvania's first Keystone Digital Humanities conference.)