Workload and the engaged historian
28 May 2012 – Jay Martin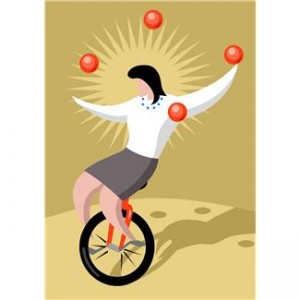 During the 2012 Annual Meeting of the NCPH in Milwaukee, I had the opportunity to talk with fellow public history educators about issues related to labor. It became clear to me that there are widely divergent expectations placed on public history faculty by their home institutions. None of us have "easy" jobs, nor do we expect to. In fact the complexity of the challenges we face and meet daily is one of the best indicators that–as a professional group–we are vibrant and unique members of university communities across the country. However, the workload expectations employers place on public history educators complicates what we are able to achieve for our students, for our programs, and for ourselves. Academic workload, therefore, is broadly relevant because it can limit our ability to support the larger field of Public History.
The recent release of the Report on Tenure and Promotion for the Engaged Scholar (for the accompanying white paper, click here), which has been adopted by the OAH, the AHA, and the NCPH, has helped reframe scholarship as a process that complicates the traditional categories of service, teaching, and research. This has been tremendously helpful for many of our colleagues in their bid for tenure and promotion, but it has inadvertently complicated the issue of workload as universities and departments embrace the kind of work that requires time and energy difficult to measure and count. Therefore, it seems an appropriate time to conduct a survey of workload for public history educators. Presently, the only way to investigate this is to interact with peers and compare the expectations under which we work. Though effective on a personal level, this does little to develop a sense of common experience, let alone to identify and change the outlying ends of the academic workload spectrum. Although the appropriateness of individual workload to our peculiar work situations varies significantly, we may be able to create a set of guidelines that our colleagues can use as they negotiate the terms of their employment.
In my own case, I am required to run an interdisciplinary Museum Studies Program, serve as director of the campus museum, and coordinate the Public History Program as a full time tenure-track professor. In real terms, this means that I am operating as a full time public historian and museum professional while also teaching a 2-1 load (Fall/Spring), supervising 12-20 summer internships, and advising nearly 60 undergraduate students as well as a half dozen graduate students. I am still bound by the same tenure and promotion guidelines as other faculty with a more conventional workload. While I love my job and I'm proud of my work, I am discovering that balancing these jobs is a significant challenge that may not be sustainable.
I would like to engage the readers of this blog in an effort to quantify workload for the Engaged Historian. If we are willing to share information about our individual experiences, we will have a base of information from which to identify trends in the field. From that data, some sense of an appropriate base range workload could be estimated. This information would be helpful in assessing whether our individual academic programs are maintaining a healthy level of activity in contrast to other programs. A more formal survey would help programs argue effectively for more appropriate resources to meet mission and diminish the probability of faculty burn out.
I would like to begin by suggesting that we need to assemble the following basic information: position, faculty status (ie. tenure track vs. non-tenure track), assigned teaching load, expected scholarly productivity, and anticipated level of service. So I ask, first, do any of you feel–as I do–that even an informal survey on this subject would be useful? Second, I ask if you are willing to participate in a broad survey. And, finally, which method of data collection would you prefer: 1) posting direct to the blog; 2) sending information to a third party who would compile the information and then post the results to the blog; 3) completing a formal survey via an online source like "Survey Monkey"?
~ Jay Martin