Every tool is a weapon: Why the digital humanities movement needs public history
02 November 2012 – Mary Rizzo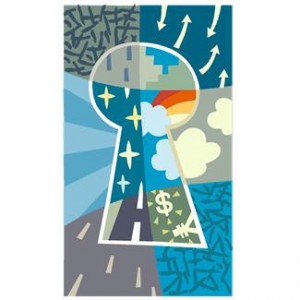 Public history has been at the forefront of democratizing historical knowledge and utilizing nontraditional modes of inquiry—from oral history to personal archives—since its inception. In that time, it—we—have substantially affected the larger practice of history in the academy.[1] But, to vastly oversimplify, the promises and possibilities of the digital have risen as a challenge to all historians to rethink how we disseminate our work and, at the same time, to spur conversations that question and critique the role of technology in the 21st century.
Recently, I attended THATCamp Theory, offered by Rutgers University. For the uninitiated, THATCamp, or "the humanities and technology camp," was begun by George Mason University's extraordinary Roy Rosenzweig Center for History and New Media in 2008, as an "unconference" drawing humanists and technologists together. Rather than the usual academic conference with panels of "experts" and a relatively passive audience of listeners (a broadcast model, one might say), THATCamp is interactive. Attendees decide collectively on the sessions that will be offered in what might be called the living equivalent of Web 2.0, or what seemed to me to be a little like a Quaker meeting. People propose topics when they feel moved to do so.
The purpose of THATCamp Theory, intriguingly, was to try to bridge the hack/yack divide between "doing" digital work (coding, building tools) and theorizing about that work (for a great take on this debate see Adeline Koh's blog post "More Hack, Less Yack? Modularity, Theory and Habitus in the Digital Humanities"). While others have surely said it better, I walked away from THATCamp Theory understanding that "digital humanities" means both the incorporation of digital technologies into humanities work and the use of humanistic modes of critical thinking to understand the digital world around us.
So, what does this have to do with public history?
A lot, but before I go there, let me stop for a moment with the public humanities.
Given that I work for a state humanities council, I've long been intrigued by the relationship between public history and public humanities. The latter seems to be the umbrella term that encompasses the former, but in terms of disciplinary coherence, institutionalization, and, dammit, name recognition, public history has the lead. It also has the numbers—there are a lot more public historians at public humanities gatherings than there are philosophers, classicists, archaeologists, linguists, or literature scholars, for better or worse. For these reasons, public historians are defining both of these areas and should be aware of that in their thinking. But there's a deeper methodological reason for public historians to be concerned with both public humanities and the digital humanities which was indicated by the conversation at a THATCamp Theory session on Feminism and the Digital Humanities.
We collectively wondered about the utopian possibilities of digital humanities within the context of the increasingly precarious status of the analog humanities in the university. We questioned the division of labor in the digital humanities (hack = male = productive, yack = female = unproductive) and how the digital can reproduce unequal power relations and reinscribe identity hierarchies in ways that Marx could not have begun to predict.
For example, in the recent high-profile Authors Guild lawsuit against the HathiTrust, an amicus curiae brief argued that the digitization of texts was important for scholars of 19th century literature involved in text-mining. But while digitization of these materials makes a significant number of little known popular works by women available, the brief mainly mentioned "great works" like Herman Melville, using examples of how text-mining identified an overlooked tradition of whaling literature and how macroanalysis of texts showed that Harriet Beecher Stowe's fiction was "far more similar to the work of the male authors of her generation than to the female-authored works of 'sentimental fiction.'"[2] While the judge ultimately focused on the needs of differently-abled users in ruling in favor of the HathiTrust, the brief's language points to the ways that what seems like digital progress may recreate older discourses.[3] Were these amici simply falling into patterns that downplay the importance of women's creative output or were they slyly using the language of power to win a battle with huge implications for digital technology? That's unclear, but it raised pertinent questions.[4]
However, I felt that locating the discussion entirely within the context of universities was a severe limitation. As public historians are well aware, history is done by lots of people who don't have academic degrees or tenured professorships. By similarly suggesting that the university does not have to be the only setting for the digital humanities, our conversation began to evolve into a discussion of how digital + public + humanities could be a redress to the problems created by university structures and the limitations of scholarly audiences.
The connection is there. Digital humanities has emerged from the open source, copyleft, and hacktivism movements, and its core values can perhaps be described with words like sharing, collaboration, democracy, and interaction, words which should feel pretty familiar and comfortable to public historians who take these tenets of our discipline seriously. This is where the two "sides" of digital humanities can come together—having someone create digital tools is not enough. Empowering people to understand those tools along the way to helping them remake them or create new ones is a framework with real-world meaning.
Which brings me to the title of this blog post, a reference to an Ani DiFranco song that undoubtedly dates me and inspires Portlandia jokes. But it's what kept going through my head during these discussions, which shifted from talk of continental theory to the construction of databases, from the ephemerality of archives to the php code underlying Omeka. We expect technology to be our obedient tool. But in the wrong (or right) hands, any tool can be turned from its intended purpose quite easily. Public history seeks to challenge the structures of traditional scholarly history through its tools: methods, theories, and questions. As digital humanities becomes the hot new thing, I urge public historians to help guide this field, using the four decades of experience we have behind us to try to expand this democratizing impulse while also fearlessly questioning—and what are historians better at than fearless questioning?—structures of power, labor relations, and inequalities along lines of gender, race, class, and sexuality. These digital tools can be weapons, but only if we hold them right.
~ Mary Rizzo
(but don't just take my word for it. Check out the THATCamp Theory blog, tweets from THATCamp Theory and Mia Zamora's notes from THATCamp Theory)
NOTES
[2]
Jockers, Matthew L., Sag, Matthew and Schultz, Jason, Brief of Digital Humanities and Law Scholars as Amici Curiae in Authors Guild v. Google (August 3, 2012). Available at
SSRN
(see p. 9).
[4]
Thanks to Andrew Goldstone, Rutgers University, for bringing these points to my attention.